The skill of annotation isn't specific to the American literature classroom, so this post actually reaches to any college-level instructor who would like to help students read more deeply. No matter the field, modeling the skill and practicing it in any class can yield better reading retention and engagement with course material. This post is about how I learned the value of teaching annotation in my classes, and how annotation practice in class has resulted in better class discussion and student comprehension.
I am notorious for giving reading quizzes in my lower-level (and sometime upper-level) classes. These are very brief 3 question quizzes that ask students basic comprehension and key term/vocabulary questions about the reading for the day. The purpose of these quizzes is simple: I want to make sure students keep up with the reading throughout the semester, especially during those busy weeks when, say, football is on TV or our basketball team makes it to the Sweet 16. These quizzes aren't meant to trick; they're meant to provide positive reinforcement for those who are vigilant about their class preparation, and are meant as a wake-up call for those who aren't. I've been doing these quizzes for years, but eventually I noticed a trend happening. I had students come up to me after class and say, "I did the reading but I failed the quiz. What can I do?" My answer to them was to read more closely, but even as I said it, I knew it was an empty solution because reading closely is actually a multifaceted skill set. Below I've listed a few of my assumptions about what I mean when I tell my students to read more closely, and ways I have encouraged these practices in the classroom so students understand reading expectations.
Assumption #1: Reading is understanding
My first assumption was that when a student said s/he had read something s/he had read it and understood it. This is not always the case, and as I reached back into my college memories I remember having no idea what the Krebs cycle was even though I had read all about it in the assigned chapter of my biology book. Reading words on a page doesn't necessarily equate understanding the meaning of the reading, and highlighting 70% of a page doesn't mean I've learned anything, so when I ask students to read for class, what I'm really asking them is to read, reread, question, dialogue with, and understand the text. I've learned to make those expectations much more explicit in classes early in the semester. I have a good rule of thumb: if you read a page and can't explain to your roommate or mail carrier what you read, it's probably a good idea to spend more time with the text. I always offer up myself as a resource for those student who have spent time with the text but can't get a handle on it, and below are some fundamentals I teach to get students into the practice of reading to understand.
Assumption #2: Books were made to be written in
Ever had to put your pen down when you're reading People or US Weekly on vacation? It's a problem many academics have. We're so used to reading with a pen or pencil in hand so we can make notes in margins that it feels strange to read something empty-handed. Reading with a writing utensil at the ready is good practice, but it's an expectation that needs to be made explicit to young scholars. Highlighters don't work as well as pens or pencils, because they're not focused enough. I can highlight a page and return to it the next week with no greater insight into why I highlighted it or thought it was important. Pen/pencil is the way to go for engaging in a dialogue with a text.
Many times students have expressed fear of writing in their books.
This hesitation may be habit — after all, how many library signs have we read that tell us we should not writing in books? Students may also steer clear of writing in books because they have rented them and want to get their money back at the end of the semester. For students whose resources are on the forefront of their minds, I offer the solution of sticky notes with annotations that can be pulled out after finals. The second fear of writing in books is tougher to crack: students feel that they don't have the authority to write their own words next to/over/beneath a published author's words. There's a fundamental belief that the author's words are sacred, and undoing this key falsehood is necessary to get students in dialogue with texts. I often tell students that the author has control over their work until they send it to be published, then their words are ours to write on as we please. On the first day of class I often show one page of a book with my annotations on the document camera. The example
on the left also a good one to show to lighten the mood — it's David Foster Wallace's copy of Cormac McCarthy's Suttree. Here's a link to more of Wallace's book annotations. Granted, they can be overwhelming for beginning (or even advanced) annotators, but they sure are interesting.
There can also be confusion amongst students about WHAT to write in the margins. David Stuart Jr. has a good article about Purposeful Annotation that gives an in-depth look at how to encourage students to be curious annotators.
Assumption #3: Read for questions, not answers
I've found that one of the most productive ways of reading texts is to raise interpretive questions about it. After all, this is where good class discussion comes from, and I've found that when students read deeply and question the text, we have much more interesting conversations. For young scholars, asking questions of the text may not be intuitive. For example, they may be used to having the answers to fact-based plot questions, such as "What happened?" but they may not feel secure enough in their roles as critics to ask questions of the text about why or how an author put his/her text together. One of the ways I've incorporated this practice into my intro level literature courses is to require students to write a 100-200 word interpretive questions before each class. I snagged this assignment from Chris Baratta's "Put the Question" exercise included in The Pocket Instructor: Literature: 101 Exercises for the College Classroom. Due to the word limit, these questions can't be simple and need to be open-ended and textually based. This exercise asks students to find patterns in the text through close engagement and note taking that then leads to a sustained question. At times we start class discussion with one or two questions posed by class members. I find that this boosts the students' confidence in question-asking and makes for provocative discussion.
Assumption #4: Words matter
This is one assumption that is tricky to translate as it does require some time, but the work is well worth the payoff. I let my classes know that we are in the business of words, and as such, words matter very much to us and what we do. Therefore, every time a student comes across a word s/he doesn't know, s/he is expected to look it up and write the definition in the text next to that word. This seems tedious at first and it's helpful to begin this practice with poetry since there are fewer words per page. I test students on unfamiliar words as part of their reading quizzes, and after initial groans they learn that this is an expectation of their reading and annotation work. They often find that knowing what particular words mean alter their understandings of the poem. For example, knowing what the word "Cornice" means in Emily Dickinson's "Because I could not stop for Death" is a key moment to understanding that the speaker may not be alive when speaking the poem.
Annotation Exercise
I've started each course this semester by using this annotation exercise. I've done this in previous semesters when all my students had smartphones where I told them to take a "before" and "after" picture of one page of their text. The side-by-side images help them differentiate between the kinds of thinking that happen in the first and second readings of the text, but they're not essential if students do not have access to smartphones as resources…they can rely on nature's first photograph (their memories) in this short exercise.
A student reads the text aloud to the entire class. After that student has read, I give the class a few minutes to jot down their takeaways from the text (what they remember, what is most important, etc). This is the BEFORE portion of the exercise. If you like, you can have students photograph their papers. As a class we discuss the text and students share what stuck out to them. These ideas typically circle around what happened and big, obvious symbols present in the text.
The student rereads the text or students read the text silently to themselves, this time with a pen or pencil in hand. They make marginal notes, underline, and question the text. Afterwards, they jot down the new information they learned while annotating. This is the AFTER portion of the exercise. Students can photograph this scribbled on page and do a side-by-side comparison. As a class, we discuss the text again. I ask the students what was different about their non-annotated and annotated readings. This semester many students said they were able to notice things — subtle use of words and phrasing — that they hadn't paid attention to the first time around. This is a short lesson, but it shows the improvement in comprehension when annotation comes into play.
BEFORE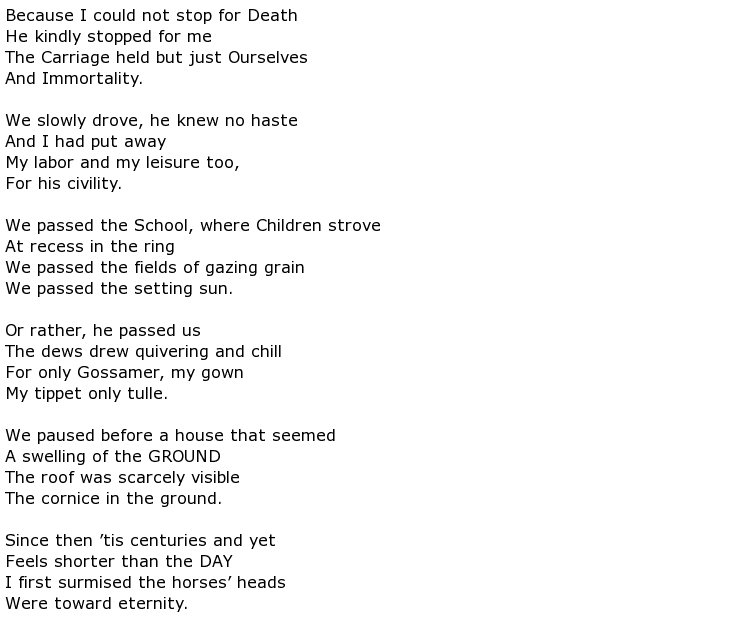 AFTER
I begin my courses this way to set up the student expectations about what kind of effort I look for when I assign a reading. This also shows that reading is a slow, involved process, and that's ok — what we do takes time. This may intimidate students at first, but the more they are held accountable for deep reading, the more I find them adapting this as regular practice.
Food for Thought: Electronic or Hard Copy Annotations?
Perhaps I'm a luddite, but I require lower-level students to have hard copies of the text in hand so they learn hand-written annotation. In upper-level classes I offer them the option of having the text electronically with the understanding that they are already employing skills of close reading and annotation. I know there are highlighter and note taking possibilities in certain e-readers, but I'm not yet convinced that these are as effective as hard copy note taking for those who are able to do so. Am I a dinosaur? Probably. I'm open to anyone who can convince me of effective electronic annotation tools for young scholars. Please chime in!